Looking for an alternative to Kameleo? This article will help you analyze why many people are using browsers similar to Kameleo, why many people are looking for alternatives to Kameleo, and the best alternatives to Kameleo!
Why need a browser like Kameleo?
The importance of multiple accounts
Are you still looking at one account a day? Now that mass operation has become more and more popular, are you really still sticking to an account?
On Instagram, some people are both travel bloggers and beauty bloggers, while others run their own we-media accounts and have their own company accounts. On eBay and Amazon, your competitors may be running several accounts simultaneously in an attempt to gain a competitive advantage.
Or do you want to sell different kinds of products on a sales platform?
Either way, multiple accounts are gaining traction. Indeed, in today's world of more and more opportunities, few people are willing to bet all their energy and assets on one direction.
For those in sales and marketing, multiple accounts have long been indispensable. In fact, it is not difficult to understand that Internet users have a strong demand for shopping. In order to meet the shopping market in various regions and target consumers with purchase potential, opening multiple accounts can indeed help practitioners to approach them more quickly and accurately. However, each platform suggests that one account corresponds to one business entity, so multi-agent and multi-account emerges as the times require. Sometimes even having multiple accounts is a watershed in performance.
Why use a browser like Kameleo
Some people may feel that: management of multiple accounts directly using a browser optional account switch can not it? Why do we need to find ways to manage them?
In fact, in order to prevent the detection of manufacturers, there are many ways on the market, such as using N computers, or with multiple VPS to manage. This is ok if you don't have high-security requirements for your accounts, or if you have enough money and energy to take care of and protect your accounts on multiple devices. But too few people do.
Here's what you need to know: Managing multiple accounts is all about managing effort and account correlation. Everyone knows that the more accounts you have, the more things you have to worry about. And sometimes the effort may not yield satisfactory results. Because if the equipment and network problems will bring account association problems, the result of association is to be blocked, bringing you huge losses.
The reasons for the association between the network and devices are as follows:
The IP address is not fixed. The infractions of the previous person who used it can affect you.
IP and device are used interleaved. Multiple accounts are judged to be operating on the same machine at the same address.
Browser cookies and fingerprints. Many people think that as long as they change the IP address will not be identified, but in fact, because HTML5 and JS are more and more powerful, computer browsers can obtain fingerprint information through technology, manufacturers can use fingerprint tracking technology, so as to identify the real identity behind.
Buying a browser cookie and fingerprint. Many people think that as long as they change the IP address will not be identified, but in fact, because HTML5 and JS are more and more powerful, computer browsers can obtain fingerprint information through technology, manufacturers can use fingerprint tracking technology, so as to identify the real identity behind.
Batch operations and preventing association are therefore the bane of multiple account owners.
So how do you manage multiple accounts efficiently and securely? Is there a way to replace multiple computers with one software, which can facilitate teamwork and enable quick handover of employees after they quit?
The virtual browser can help you! Virtual browsers allow you to configure multiple user files to run multiple accounts while masking your real identity, making accounts more secure.
Kameleo is one of the virtual browser brands, but many users began to look for an alternative to Kameleo after considering whether it was expensive and word-of-mouth.
Why use the Kameleo alternative
Kameleo has not been in the market for a short time, so why are customers who have used Kameleo starting to consider alternatives to Kameleo? In fact, there is no good or bad product, but the difference in function and detail will bring a different experience to customers with different needs. If it fails to meet customers' needs, Kameleo's alternative solution is needed.
What failed to satisfy customers and make them not recommend it?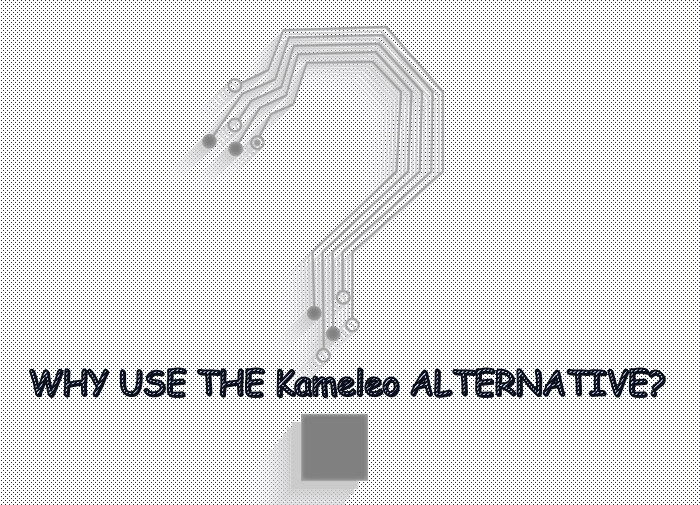 1) A profile cannot be created automatically
Automation is a very important part of user experience, and the performance and evaluation of a browser depend on its automation function. Kameleo's automation is basically the same as Multilogin, but Kameleo cannot automatically create profiles. Although Kameleo also supports the creation of an unlimited number of profiles, the inability to create them automatically creates some problems for users.
When users have a large number of accounts, manually configuring profiles can be a huge effort. This creates a lot of unnecessary trouble for users, wastes time and drags down the user experience.
2) The UI is slightly crude
Good human-computer interaction, operation logic and beautiful interface design is refreshing. When the UI is perfect, it gives users a high sense of pleasure and fluency, which increases user engagement and praise.
But Kameleo's UI didn't put enough effort into it, and it was a bit weak compared to performance. The somewhat crude UI has led many users who are looking for beauty and excellence to opt-out of Kameleo.
3) The update speed is slow
Can you accept a server bug and not fix it for a long time? Or is your browser slow or slow to update while all other browsers have kept up with the latest updates?
Many users will say no. Slow update speed is easy to waste time, in today's time is money, an excellent update speed, and update frequency is also a browser's strong performance and competitiveness.
However, Kameleo is lacking in this aspect. Some users report that Kameleo updates slowly, which over time leads to a decrease in users' recognition of Kameleo.
4) Poor customer service
After-sale is also an important part of product quality. The adoption of a browser by a user is not the end, but the beginning of the service.
Good customer service should solve problems for users. At the same time, customer service is a direct channel to contact users, through which users can listen to their opinions to improve their products. The service mode and attitude of customer service greatly affect whether users are willing to continue to use it.
Many users are unhappy with Kameleo's customer service. Kameleo has no online customer service, and many problems are solved by submitting tickets or watching online tutorials. Sometimes these methods don't really help the user, and can even waste valuable time and increase user boredom. This is one of the reasons why Kameleo has a lot of negative reviews and people don't recommend it to their acquaintances.
The best Kameleo alternative – ClonBrowser
1) Full functionality
ClonBrowser is a very outstanding anti-fingerprint virtual browser, with mature configuration technology for you to create countless exclusive computers!
It's completely functional and you can trust it!
ClonBrowser builds a separate environment for each of your configuration files, so you don't have to worry about data crossing!
Profiles can be shared with the team, so you don't have to buy a ticket to get points for running multiple accounts — we value your business cooperation!
ClonBrowser provides you with the ultimate configuration plan, so you don't have to worry about setting up your own parameters, and even a computer nerd can use it anyway!
ClonBrowser lets you set up multiple independent businesses and social marketing accounts, which never connect to each other. Because you can use IP proxies, and your cookies and other files are completely isolated, your browser fingerprint is also protected by us and cannot be detected by any external means.
You can compare prices using ClonBrowser to simulate different real visitors, avoiding getting stuck in a budget scam or big data fraud.
ClonBrowser provides you with secure privacy protection, allowing your online activities to be kept completely private.
ClonBrowser's functionality is not limited to this, it's excellent enough for you to try.
2) Clean UI
ClonBrowser's UI is excellent. Logic is clear and the page is clean and tidy, very convenient for your quick operation so that you can operate options at a glance.
3) Normal maintenance
ClonBrowser maintains very stable maintenance to prevent fluctuations.
4) Excellent service
Compare with Kameleo, ClonBrowser takes your experience and feedback very seriously! ClonBrowser has online customer service at all times, we are always ready for you the most thoughtful service and guidance.
If you encounter difficulties in using or have any better ideas and opinions, you are very welcome to contact us online!
5) Free Trial program
ClonBrowser supports a 7-day free trial, what are you waiting for? Click here to start learning about ClonBrowser!